1985 Saab 900 Turbo Test: Replacement for Displacement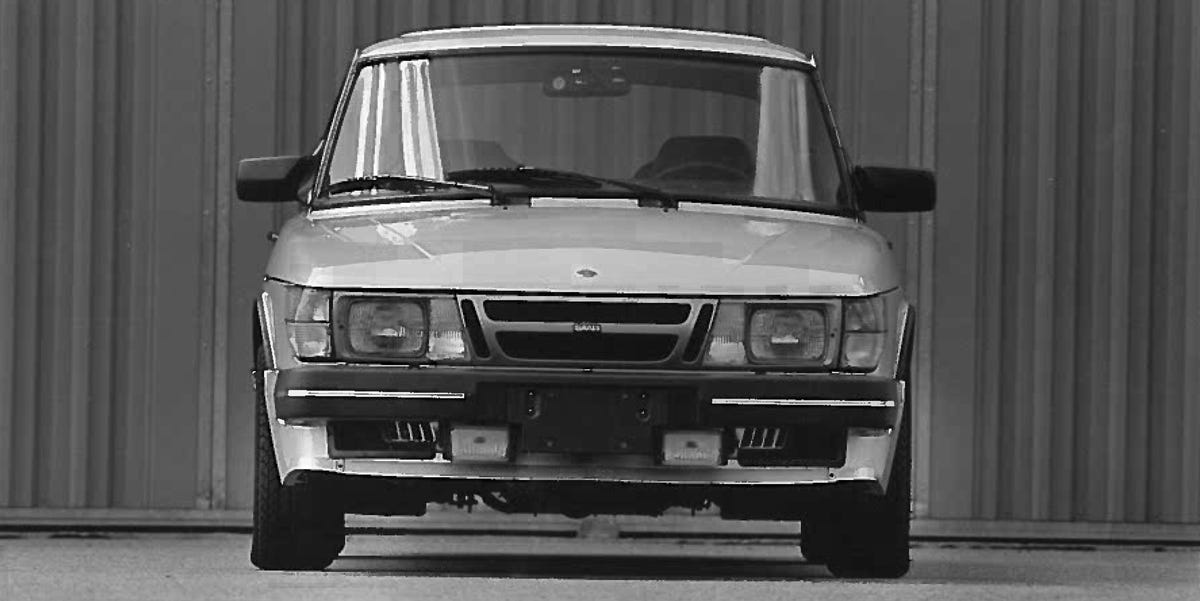 From the December 1984 issue of Car and Driver.
Who would have thought ten years ago that 1985 would reveal a production-car engine with a turbocharger, an intercooler, double overhead camshafts, four valves per cylinder, and digital-computer-con­trolled fuel injection? Even Formula 1 en­gines didn't enjoy all of these features back then. The fuel crisis was in full swing, and more and more emission controls were being heaped on automobile powerplants. Vibrant and powerful engines were the last thing we expected from the future.
Yet here we have the new Saab 900 Tur­bo, equipped with all the aforementioned hardware. It's smog legal, it delivers good fuel economy, and it chums out 160 hp from a modest 1985 cc of displacement. The small Swedish company arrived at this pinnacle of engine technology by steadfast­ly pursuing higher engine output, without allowing the fuel efficiency or the curb weight of its car to suffer.
The first step was adding a turbocharger to the corporate four-cylinder in 1978. Such a move may seem run of the mill to­day, but at the time there were only two tur­bo cars in production: Porsche's 930 and Buick's Regal. In 1982, Saab advanced the turbocharging art with its APC (automatic performance control) system, which mod­ulates turbo boost to control engine knock, thereby allowing a higher compression ratio, improved off-boost performance, and greater fuel efficiency.
Now we have a third-generation Saab turbo motor, incorporating wholesale de­sign improvements. The most important is a new four-valves-per-cylinder head. The valves are actuated by two chain-driven overhead camshafts via bucket tappets with integral hydraulic lash adjusters. With two 32.0 mm-diameter intake valves and two 29.0 mm exhaust valves per cylinder, the engine breathes more freely than it did through a single 42.0 mm intake and a 34.5 mm exhaust valve, even though valve lift is slightly reduced and the duration of the valve events is about the same. The an­gle between the intake and exhaust valves is only 44 degrees, which yields a compact, pent-roof combustion chamber. The spark plug is centrally located and the double in­take port induces high turbulence, so flame travel is short, combustion is quick and complete, and there is little tendency to­ward detonation.
Taking one more step to minimize knocking, Saab engineers shoehorned an intercooler into the 900's cramped engine compartment. As a result, the sixteen-valve engine's peak boost pressure was raised to 10.9 psi (from the 9.4 psi of the eight-valve engine), and the compression ratio was bumped up half a point, to 9.0:1—higher than the compression ratios of most nor­mally aspirated engines. The healthy com­pression and the freer breathing improve the engine's output both on and off the boost, while the intercooler and the elevated boost pressure move peak output up an­other notch.
Saab has also taken this opportunity to switch from Bosch K-Jetronic mechanical to Bosch LH-Jetronic electronic fuel injec­tion. The new system's microprocessor controller allows more exact and elaborate regulation of the fuel injection, and a hot­wire airflow sensor comes with the pack­age. This transducer offers less flow re­striction, automatic altitude compensation, and a more precise measure of the intake-air mass.
Thanks to all the new technical exotica, Saab's star engine now develops 160 hp at 5500 rpm and 188 lb-ft of torque at 3000 rpm, compared with the old powerplant's 135 hp at 4800 rpm and 172 lb-ft at 3500 rpm. Not only is the output substantially greater, but the spread between the power and torque peaks has increased from 1300 to 2500 rpm, signifying a much more flexible engine. Amazing­ly enough, these increases in output have not been achieved at the expense of EPA fuel economy.
Driving the new Saab brings these bene­fits into sharp focus. The new car is notice­ably quicker than prior versions, and it also seems more relaxed. The sixteen-valve en­gine revs so effortlessly that we found our­selves constantly going faster than expect­ed. Part of the engine's good nature is its silky smoothness: The Saab sixteen-valve never emits a coarse quiver or a discordant grind. The rest is simply the joy of a healthy torque curve—once the boost is up, this en­gine positively charges for the redline.
The only hardship is waiting for the boost. Despite all the mechanical and elec­tronic improvements, Saab hasn't done much to make the turbo spin more quickly up to speed. The off-boost performance has indeed been improved, but so has the on-boost output, leaving the margin be­tween the two as great as ever. The boost builds slowly below 2500 rpm, as it does in eight-valve Saabs. Above 3000 rpm, how­ever, throttle response is immediate, even in top gear.
When full use is made of the upper rev range, the sixteen-valve Turbo scoots from 0 to 60 mph in 8.5 seconds, about 0.8 sec­ond quicker than the old car, and covers the standing quarter-mile in 16.5 seconds at 83 mph, a half-second quicker than be­fore. The difference would probably be greater but for the Saab's traditional prob­lem of wheel hop during hard starts. The tires do stay in contact with the earth at higher speeds, so the 900 Turbo's peak ve­locity jumps from 113 to 128 mph, making it one of the fastest sedans sold in America.
Our Saab's high-speed talents were helped by its aerodynamic body panels, which are part of the optional Special Per­formance Group. These add-ons reduce the drag coefficient from just over 0.40 to just under 0.40 (according to Saab) and give the car a sleeker, if still blunt, appear­ance. The package also includes leather upholstery, an electric sunroof, fog lights, special three-spoked alloy wheels, V-rated tires, slightly softer rear shock absorbers, and front and rear anti-sway bars (the first such devices ever fitted by the factory to a 900). Our test car was painted a lustrous pearl white, but production versions with this package will come only in black.
The suspension pieces admirably com­plement the more powerful engine. They keep the Saab more upright in hard cor­ners and give it very neutral handling, with understeer and oversteer controlled by the driver's right foot. Yet, despite the suspen­sion's tauter and more precise feel, ride comfort seems no worse than before. And the lack of torque-steer effects sets the standard for other powerful front-drive cars to emulate.
For 1985, all 900 Turbos sent to Ameri­ca will have the sixteen-valve engine. In the three-door configuration, they'll carry a base price of $18,150. The Special Perfor­mance Group costs a hefty $2860 more, a penalty we'd like to see Saab ease by mak­ing the suspension components available separately.
Expensive or not, the new 900 Turbo is unquestionably the best Saab ever—as sol­id and practical as always, but now bristling with remarkable performance as well. The upcoming 9000 has a tough act to follow.
Specifications
Specifications
1985 Saab 900 Turbo
Vehicle Type: front-engine, front-wheel-drive, 5-passenger, 3-door sedan
PRICE

Base/As Tested: $18,150/$21,010
Options: Special Performance Group (leather upholstery, electric sunroof, fog lights, V-rated tires, anti-sway bars, aerodynamic aids, special wheels, special shocks), $2860; black paint, $385.
ENGINE
turbocharged and intercooled DOHC 16-valve  inline-4, iron block and aluminum head, direct fuel injection

Displacement: 121 in3, 1985 cm3

Power: 160 hp @ 5500 rpm

Torque: 188 lb-ft @ 3000 rpm 
TRANSMISSION
5-speed manual
CHASSIS

Suspension, F/R: control arms/live axle

Brakes, F/R: 11.0-in disc/10.6-in disc

Tires: Pirelli P6
195/60VR-15
DIMENSIONS

Wheelbase: 99.1 in

Length: 186.6 in

Width: 66.5 in
Height: 56.1 in

Passenger Volume, F/R: 46/42 ft3
Cargo Volume: 22 ft3
Curb Weight: 2908 lb
C/D TEST RESULTS
30 mph: 2.6 sec
60 mph: 8.5 sec
1/4-Mile: 16.5 sec @ 83 mph
100 mph: 29.6 sec

Top Gear, 30–50 mph: 11.8 sec

Top Gear, 50–70 mph: 10.0 sec

Top Speed: 128 mph
Braking, 70–0 mph: 217 ft

Roadholding, 300-ft Skidpad: 0.75 g
C/D FUEL ECONOMY
Observed: 20 mpg
EPA FUEL ECONOMY
City/Highway: 19/26 mpg 
C/D TESTING EXPLAINED

Contributing Editor
Csaba Csere joined Car and Driver in 1980 and never really left. After serving as Technical Editor and Director, he was Editor-in-Chief from 1993 until his retirement from active duty in 2008. He continues to dabble in automotive journalism and LeMons racing, as well as ministering to his 1965 Jaguar E-type, 2017 Porsche 911, and trio of motorcycles—when not skiing or hiking near his home in Colorado.